NIGHT DRIVING GLASSES OVER GLASSES


When it comes to choosing a cost-effective, neat solution to your prescription sunglasses requirements, Over Glasses are difficult to beat. Our night driving glasses overglasses are lightweight, strong and optically correct. They are designed for use in low-light conditions, making them ideal for night driving where the anti-glare lenses reduce fatigue and make it easier to see
ahead.

Note: If you wish to use these sunglasses for sports, we recommend you add a retainer to your purchase. Please select this from the drop-down menu at the top of this page.
The Frame
Made from a tough polycarbonate, the lightweight frame fits comfortably over most styles of spectacles. It features a high quality, hand-sprayed matt-black finish.
Size These sunglasses will fit on top of spectacles that are up to 13cm wide, with a maximum lens height of 4.3cm. Due to the curved shape of the lenses, these sizes are approximate. If you need a larger size, please consider the Vogue model instead, here.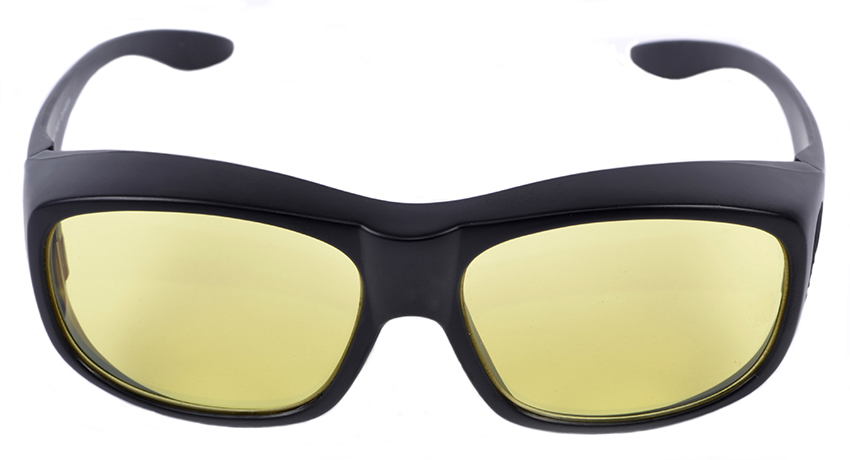 The Lenses
Impact resistant, Category 0 polycarbonate lenses are fitted to the overglasses. An anti-glare coating removes the harshness of oncoming vehicle headlights and street lamps, making it easier to define the road ahead. It also removes the glare caused by your own headlamps on street signs. Anti-glare lenses can reduce fatigue on longer journeys, through the dimming of bright lights, making them perfect for long-haul truckers.
Conformity
Rapid Eyewear sunglasses conform to British, European and US standards for sunglasses and protective equipment testing. They offer 100% UVA / UVB (UV400) protection.